I had great feedbacks from the first post of the series "What to do", so I decided to publish another post sooner than expected. Thank you also for all the lovely comments you left and for sharing my article! I am going to try all the places in the Station area you suggested very fast! As Ruxandra said in her comment, having a good recommendation will help you trying a spot you maybe passed in front hundreds of time but never get a chance to stop, giving you more confidence!
Today we go ahead visiting Bonnevoie area. I know Bonnevoie is not considered by many as a fashion area of the city, but having lived there for 9 years, I learned to love it deeply and I find really difficult considering moving out!
Once again, please comment with your favorite spots around the area!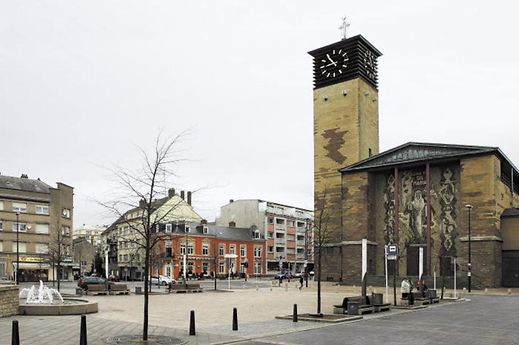 Where to go when you want to pamper
Bubbles Hairdresser
I am really jealous about my hair. I used to have long hair for more than half of my life and even now that I got a shorter cut for couple of years, I tend to use great products and to be really careful about cuts and coloring. Ca va sans dire, I think I have changed at least a dozen of hairdressers in Luxembourg, as I was never satisfied. Since Rosario moved his shop, Bubbles Haidresser, to Bonnevoie, I have been a loyal client and I have recommended it also to friends.
I tend to go there during the week, when they are less busy and they can give you all the necessary attention. After years of going out from the hairdresser looking at the mirror and saying: "What the f*ck have they done?" now finally for me it is the time to giggle: "Beautiful me".
Where to go when you want a relaxed after-work
Bouneweger Stuff
I started to go to the Bouneweger Stuff when it was not yet mainstream (I also cooked there for their event "Chef for one night"!) and I honestly sometimes find annoying when, above all during summer, it is so packed. But at the end, being just few steps from my apartment, I find it the perfect place when you want to have a chat with a friend without the urge of dressing up like you go to the city center. And the Joslette (not sure I am writing the name correctly, but it is Pimm's plus Ginger Ale) is one of the best cocktail ever!
Why not
If Bouneweger Stuff is too packed, I walked few blocks down to the "Why Not" cafe'. They also have a sunny lovely terrace – even bigger -, fairly priced drinks and friendly environment, kind of place you like to go when you want to meet someone, have some booze and fun, without any stress. Check out their page, as they have also pretty good live music nights.
Where to go when you want to get inked
Absolut Ink
To come back to the earlier discussion, your tattooist is like your hairdresser. You should trust him and when you find the good one you must not change it. This was my case, after several tattoos around, when I started hanging out at Christophe's Absolut Ink – I already wrote an article about his shop here. Pass by to this bright and spacious studio for your tattoos, piercings, shopping some unique accessories as bags or watches, or for one of the music event they organize from time to time (next one, in collaboration with Luxuriant, will be on September 26th).
Where to go when you need to shop for a vegan dinner
Mullebutz
Not only vegan, but also gluten-free, lacto-free and bio products, together with fresh fruit and vegetables. Definitely not cheap and not for your daily shopping if you are on a budget, but for sure a reference point for specific food products. I love the vegan mushroom pate', the dried fruits, the kamut pasta and the miso soups.
Where to go when you want some "pizza al taglio"
Pastificio La Modenese
"Pizza al taglio" is an institution in Italy. In a simplistic way, it is like the normal pizza, but squared and small, and you normally eat it between proper meals, as a snack. There are tons of shops in Italy and you can ask to take it away in a box – great to eat on the couch with a Pepsi Max watching Geordie Shore 🙂
Well, I didn't know there were any "pizza al taglio" shop in Luxembourg before finding out my husband was having breakfast at "La Modenese" with some pizza salami and not at the next Fisher. The pizza is really Italian, great taste, very greasy. They have also home made lasagna and regional products. You can have lunch on spot.
Just a small note: they close at 6 pm.
Where to go when you want to take a friend out on a budget
L'Atelier del Gusto
Located in the heart of Bonnevoie, this truly Italian grocery shop offers several regional products (including Birra Moretti, 'nduja and burrata) and a tiny restaurant, informal and familiar, where to eat based on the daily suggestions. You can have a mixed ham & cheese platter or try one of the lovely pasta Angela, the chef, is preparing.
Check out the event calendar: for big appetites and empty wallets, the Panzerotti night is amazing!
Bonus Track: Where to go for a nice dinner
I talked about on the blog about my favorite fish place, La Gamba, here and here. And I had also some words about Matese, a Carpini chain restaurant, just behind the Station, great when you are too lazy to cook, and recommended also La Veranda, an authentic Italian, here.
At the middle of my personal ranking in Bonnevoie, I would put the "Bay of Bengala", brother of the Royal Bengala in Merl. The food is excellent, one of the best Indian in town, but the service and the attitude of the manager/waiters sucks, really, so much I find annoying going there and prefer to order their delivery at home – I shared this view with my sister and another friend who went to this place, so I think something needs to be changed, as it is a pity for such good restaurant!
"La Bonne Auberge", at the roundabout, is a fairly good place: the menu is very long and normally when they do too many things, I don't like it, but here almost everything is good quality: I tried the pizza (tiny and fair enough taste), the fish and the meat (good quality, high substance) even if the reason for me to suggest this place is definitely the "Picanha" night, where, for a reasonable price, you will be served with meat, chips, beans, rice, banana, all night long. Bonus point: they have one of the best waiters I have been served by in Luxembourg!
Another nice spot is Le Puits Magique, which propose traditional Portuguese food, with a limited choice, in a familiar environment.
You won't find anything too posh in Bonnevoie, I am sorry – this is gonna be the next chapter (Clausen!)